Events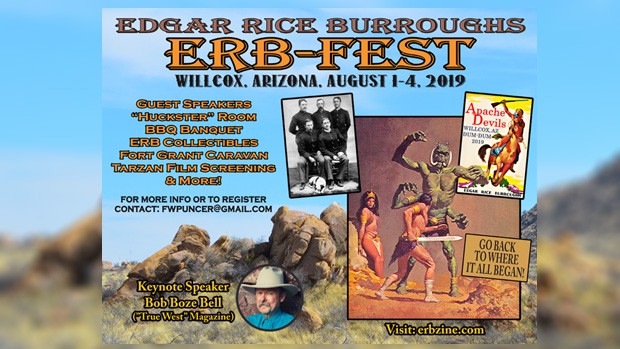 Published on June 14th, 2019 | by EN ADMIN
0
ERB-Fest 2019
ATTENTION: ARIZONA EDGAR RICE BURROUGHS FANS!!!
Do not miss this once in a lifetime event!!! ERB-Fest is coming to Willcox, Arizona, August 1 – 3, 2019!!!
This August, the annual Edgar Rice Burroughs' ERB-Fest (AKA DUM-DUM 2019) will be taking place in historic Willcox, Arizona, where Burroughs served in the US Cavalry (Fort Grant – 1896-97) and where, many believe, the impetus behind "A Princess of Mars" began! Come join in the celebration of Burroughs and his immense influence on popular culture, with the focus being on his early days in southeastern Arizona.
Here is the (tentative) schedule of festivities:
Thursday, August 1, 2019 –
9 AM – 5 PM Early Registration (Willcox Community Center)
Friday, August 2, 2919 –
9 AM – 5 PM: Registration and "Huckster (vendor) Room" open.
2 PM – Speaker: Kathy Klump — History of Willcox
3 PM – Speaker: Bernd Brand — Overview of Apache Wars—Southeastern Arizona.
5 PM – "Tarzan's Greatest Adventure" movie at Willcox Historic Theater – $10 per person.
Saturday, August 3, 2019 –
TBA   – Breakfast meet-up at TA Truck Stop, 1501 North Fort Grant Rd.
8 AM – Depart TA Truck stop. Car caravan to Fort Grant and Bonita via Old Fort Grant Rd. *
2 PM – Speaker: Doug Hocking — Tom Jeffords, Friend of Cochise.
3 PM – Speaker Deni Seymour — Discovery of the Juh/Cushing Battle site.
4 PM – Live Auction: Bill Ross
6 PM – Banquet/Dinner (with keynote speaker Bob Boze Bell) catered by Big Tex Bar-B-Que – $25 per person**
7 PM – Music entertainment
7:30 PM – Guest of Honor: Bob Boze Bell (True West Magazine) — ERB and the Apache Kid. (Book-signing event after the presentation.)
* This feature event is for fully registered attendees only. Full registration for the event is $100 paid in advance (and includes the Fort Grant Caravan, the Banquet Dinner and an ERB Fest goodie-bag.)
** If you do not fully register, you can still attend the Banquet/Dinner BBQ (with keynote speaker Bob Boze Bell) for $25, paid in advance.
Admission to the "Huckster Room" and the opportunity hear the day-time guest speakers is FREE to all Arizona fans.
Old Western/Cowboy/Cavalry dress encouraged!
Discount room rates are available at the Holiday Inn Express Hotel & Suites Willcox, please contact Mr. Frank Puncer at email: fwpuncer@gmail.com for more information on discounts and to register in advance. FULL EVENT REGISTRATION WILL NOT BE AVAILABLE ON THE DAY(S) OF THE EVENT!!!
A personal note to Arizona Fans of ERB:
I hope that ALL of you will take advantage of this incredible opportunity to celebrate Edgar Rice Burroughs at this location, which I consider to be the birthplace of modern popular culture (prove me wrong!)
As proud Arizonans, I consider it your duty to attend, learn some of our unique history and have fun with fellow fans of the master of adventure, ERB!
If you've never been to Willcox, it is a little hidden gem among our state's many treasures, with amazing history, nice people, wonderful wine-tasting rooms and vineyards, multiple museums, tolerant temperatures, delicious restaurants and an awesome small-town vibe.
Willcox is also just a short and beautiful drive away from Fort Bowie and the Chiricahua National Monument, should you decide to take a short sight-seeing trip in addition to your ERB festivities.
If you can only attend as a one-day trip from the valley or elsewhere, the "Huckster Room" and day speakers will be free to all on Friday and Saturday!
I cannot think of a cooler getaway than to attend the ERB Fest in Willcox this first weekend in August, 2019. Please contact Frank Puncer at fwpuncer@gmail.com to register or to get more detailed information – and be sure to thank him for all of his efforts in bringing this event to life!
Hoping to see you in Willcox!!! This will truly be a once-in-a-lifetime event!!!
Bob Leeper
Evermore Nevermore
The Arizona Cave – AZ Fans of Edgar Rice Burroughs